(CNN) — The "semantic Web" does not sound like it's fun and easy to use, but it could make surfing Web 3.0 a more rewarding and interactive experience. Some believe it could even lead to a new form of artificial intelligence.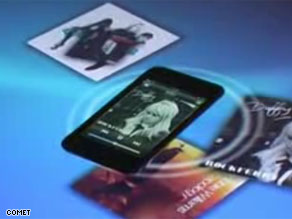 Spotlets pop up on a 'semantic Web' kiosk run by a pair of German researchers.
An object might be a marked as a car part or a person, for instance. If objects were thus identified, an enormous network of linked data would emerge and machines, with their vast processing speeds, could suggest surprising and useful links that the human mind could never come up with, posing the possibility of a new sort of artificial intelligence.
The semantic Web is considered a key part of the upcoming "Web 3.0." It's starting to occur here and there, but widespread adoption is still a long way off.
A pair of German researchers have created an experimental kiosk that lets you easily use semantic Web capabilities — even if you have no idea what they are. All that is needed is an iPhone and a finger with which to drag icons around on the kiosk's touch screen.
The kiosk takes advantage of the fact that MP3 files are "things" that have already been described in ways that machines can understand. That's because they have ID3 tags, which supply information on the artist and album.
An MP3 file on an iPhone is already a semantic annotated object, which means it's easily read by a computer.
Place the iPhone on the kiosk's surface and a circle appears around it. Next to that automatically appears a list of songs arranged by artist, title or genre.
Nearby on the screen are various "spotlets," intelligent agents that can perform different actions with the objects. One spotlet, for instance, plays MP3s that are dragged on top of it. There's also a YouTube spotlet.
Suppose you want to find videos related to Coldplay. Place your finger on the band's icon next to your phone and simply drag it on top of that spotlet. Instantly, icons for the first five videos from the YouTube search results appear around the spotlet.
Unwittingly, you've just done a search using semantic Web capabilities. Now, if you drag one of those icons onto the spotlet, the video will play. (Click here to watch a demonstration.)
Searching for new possibilities
These are just simple examples. Much more can be done with the system.
Sounds interesting…read full story on cnn.com
http://novaspivack.typepad.com/nova_spivacks_weblog/2006/11/what_is_the_sem.html