Saman Mahmood: A Pakistani Architect Par Excellence
Pakistani women are doing us proud in all walks of life and Saman Mahmood is one of them. Saman, a graduate from Indus Valley School of Art & Architecture, was awarded the Distinction Award for consistent presence on the Honor's List, and the prestigious Salimuzzaman Siddiqui Award for most comprehensive thesis research work, which was the start of the brilliant and  star studded journey for a talented woman!
Her journey shows how you can highlight your country on the world map by just being honest and passionate about your work. Her work is awesome and impressive but what really touched me was the underlying pain she felt for her country, Pakistan. She says "….. in Pakistan the educated or wealthy population is also silent and uninvolved due to an inherent insecurity and corruption in the system." All the best Saman for you future ventures.
Saman Mahmood: An Architect Par Excellence
Saman Mahmood is an architect and graduate of the Massachusetts Institute of Technology (MIT, 1999). She was a Senior Partner at an architectural practice by the name of ICON–Architects based in Karachi. In 2010, she moved to Los Angeles due to family reasons.
Pakistan Link (PL): How did you get interested in the profession of architecture?
SM: Well, I was actually admitted to a very good medical school in Karachi, but since I had almost a year before the med school semester began I decided to utilize the year in the Foundation Year at the Indus Valley School of Art & Architecture. The School had just been started by a very dynamic group of architects and artistes who had responded to the need of an art and architecture school in Karachi. As the year progressed, my interest in art history and architecture grew and I continued at the School. I remember being asked at the Indus Valley interview, "What do you think of the Taj Mahal?" I think the interviewers were having some fun. My naïve response was funnier, "The Taj Mahal Hotel on Share Faisal, or the one in India?" They burst out laughing and I was convinced that that was the end of it! But all of the interviewers – the late architect Arshad Abdullah (and later my first employer), textile designer Shehnaz Ismail, sculptor David Alesworth, and sculptor/artiste Shahid Sajjad were all masters of their art. They became my teachers, mentors and later friends.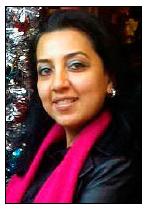 At graduation from Indus, I was awarded the Distinction Award for consistent presence on the Honor's List, and the prestigious Salimuzzaman Siddiqui Award for most comprehensive thesis research work. Later, the research was acknowledged with the Mehndi Ali Mirza Award. I guess I should mention the project here. The research was titled "Beyond Three By Six: Architecture for the Dead." I had lost my father, whom I was very close to, the same year and was obsessively pursuing to understand the concept, ideas related to death. The Indus Valley Architecture Department initially did not accept the proposal saying it would not evolve into a design project, but later allowed me to proceed. As a keen observer, I had realized the urban implication of cemeteries.
Predominantly, in the cultural tradition of Pakistan, the grave is a permanent entity. It is not the prescribed Islamic instruction, and that is debatable. With the standard of 1000 graves per acre and average death rate at 100,000 per year I realized that large pieces of valuable urban land are frozen for perpetuity once they start functioning as cemeteries. The idea of redesigning the grave according to various different beliefs towards the grave came. After taking Fatwas from key different religious authorities, the cemetery was designed as a place to be visited with sculptural grave designs and proper facilities, a garden, where death is seen as a natural transition of life – as beautiful and endearing.
PL: Tell us of your journey as an architect.
SM: My first job was probably one of the projects that I pride the most even today. As the project architect for The Citizens' Foundation (TCF) schools at Arshad Shahid Abdullah Pvt. Ltd., I had the opportunity of working on the first seven TCF schools in Karachi. It was different learning experience – to work towards education in low income communities, which was inspirational and very fulfilling. I was also extremely fortunate to work with late Architect Arshad Abdullah, whose impeccable professionalism and talent is well acknowledged. He was one of the founders of TCF as well.
In 1997, I left for Cambridge to pursue my Masters' Degree in architecture at the Massachusetts Institute of Technology. My years at MIT and Harvard were instrumental in developing my ideas pertaining to architectural language, urban issues and building technology. It was an exciting time at MIT with late Dean Bill Mitchell's discussions on Computer Aided Design, digital media and cities, the idea of 3D printing shaping up and many famous architects coming for seminars and design studios. At MIT, I was the writing instructor for undergrad architecture research work. My MIT thesis research results and writings have been cited in UN Research Reports. I also started writing regularly on urban and architectural subjects for newspapers and architectural publications. The program at MIT also allowed me to travel to Europe, Eastern Russia and Africa to study specific architectural and urban projects.
I returned to Karachi in 2000, and joined ICON – Architects, and later became Senior Partner at the Firm. It was a joint partnership with my husband architect Hanif Daud. From 2000-2010, we have successfully designed and executed many architectural, interior, urban and preservation design projects in Pakistan, Moscow, New York, Dubai and Dhaka. These include educational projects, residential, commercial, healthcare, corporate, exhibition/museum, historic preservation, interior design (banks, offices, restaurants, retail, airport lounges) and master planning. International clients include Pizza Hut, Nike stores, Novo Nordisk, Tag Heuer, Lufthansa Airline, Barclays, Standard Chartered Banks, Levi's Denim Lab, Li & Fung Ltd, to name a few.
In 2005, ICON-Architects was appointed consultant for one of the largest business school campus buildings in Karachi – Institute of Business Administration (IBA. I visited Yale and Stanford campuses in 2006 through joint Program at IBA, to study in detail their new business School facilities, especially from a technological standpoint, and incorporate some of those ideas at the new IBA campus buildings. In addition to higher education facilities, I have also worked on school projects similar to K-12 type. The prototype classroom design for the 2005 earthquake-hit regions, sponsored by the Dawn Group of Newspapers, though a pro bono project – was very important to me.
ICON – Architects has won many architectural awards. The most recent is the preservation of a historic colonial residence in Old Karachi, behind the Quaid's Mausoleum: "Award for Architectural Excellence 2012", given by the Institute of Architects Pakistan (IAP). I was listed as one of the Generation Next Architects in the magazine Architecture Design & Arts (ADA) in 2009. I am also a Nominator of Architecture & Planning Projects for the Aga Khan Award for Architecture.
In these years of Practice, I have established and maintained strong professional relationships with many public, private institutions and individual clients; and acquired key marketing skills for business development in the process. Parallel to my architecture career, I have always taught, as a thesis dissertation advisor, design studio instructor and visiting faculty at the University of Engineering & Technology (NED) and the IVSAA. I also constantly involved myself with issues related to cities and governance. In early 2010, I was selected by the Corps Commander Pakistan Army to serve as one of the four Committee Members, of the Evaluation Committee for the Design Concept Review, to review and evaluate design concepts of eight leading American and European Architectural Firms for the Consultancy of Pakistan Army's Mega City Project: The DHA City, located in suburban Karachi.
PL: What is your approach to architectural design?
SM: I believe that the built environment must fulfill the needs of the people, both spiritually and physically. As such, the domain of culture, climate and context are central to my design philosophy. These are, however, the starting points of the larger design process. The ultimate creation of architecture is a rigorous synthesis of many parts: invention, symbolism, form, texture, movement, relationship to the surroundings, sustainability, services and character. The question of utmost importance is the determination of a buildings effect on its users and onlookers; can it elevate ones sense of well–being and compatibility? A "whole" or completeness in architecture design is achieved when the design has acknowledged, translated and incorporated all these elements.
Equally significant to our Practice was the commitment to our clients. This is evident from the level of personal service ICON assigns to all its projects. Our clients also appreciated us for valuing their resources of cost and time.
PL: What have been your activities in Los Angeles since you moved in the city in 2010?
SM: Well, we all know that things have been slow in the construction industry, due to the recession. Recently, I served as an adjunct faculty at Mount San Antonio College for the Course "Sustainable Building Design". The Studio is a Design Competition sponsored by Southern California Edison. The Course included lecture series, design studio and visits to sustainable projects. One student team won Second Prize; MTSAC won this competition after many years of participation. I also serve as visiting design critic at Cal PolyPomona for student project reviews.
I was invited to present my architectural work at a Conference organized by the Association for Women in Architecture held at the A+D Museum on 26 July 2012, Los Angeles. I think the audience was pleasantly surprised to see that in a globally male-dominated profession like architecture, a woman architect has contributed so significantly in Pakistan. I have also involved myself with various human development related charities and fund raisers in LA. Recently, as a part of American Muslim Women Empowerment Council (AMWEC), I participated in the Toy Drive with Congresswoman Judy Chu in Baldwin Park, which was a huge success.
I have also used this time since 2010, to take courses to educate myself of California Building Codes (Title 24), Dept. of State Architects (DSA) processes and advanced Building Information Modeling (BIM). It may be worthwhile to mention here that in Asia, building and design codes, and contracts documentation arederived from the AIA contracts and standards. In addition, the American Graphic Standards and International Building Code (IBC) are key documents for architectural design practice in that region. As such, I am aware of architectural practice standards used in California.
PL: What has been your experience with the Pakistani-American community?
SM: Most of the people I have met have been very welcoming. The Pakistani community here is a successful group of people, who are giving back to Pakistan through various charities and human development organizations. However, it ends there. I think there is very little strive for political representation in the US – and therefore – affect on any decision making or policies is negligible. I think the focus on only individual gain, and oblivion to any larger impact is exactly the same attitude as in Pakistan. However, in Pakistan the educated or wealthy population is also silent and uninvolved due to an inherent insecurity and corruption in the system. What is the reason here? There is also often talk of supporting talented new immigrants from Pakistan, especially in the present situation, but it just does not happen. Communities like the Chinese, for example, genuinely support their new or struggling members in this country.
Courtesy: PakistanLink